The world of Blood Red Roses is a mid-low dark fantasy reflection of our own set in the 'League State' of Algundy. There are many other countries across the League all of which have an influence on the world in some capacity.
Magic exists but is shunned and feared, its practitioners hunted down by the Church of the Grey Lady. Alchemists advance the use of terrifying new weapons. The Lost walk the land in many horrific forms and The Evil moves in from the East, its magical tendrils reaching into the hearts of men and women the League over.
Into this world we invite you to bring a Hero or Villain of your own creation.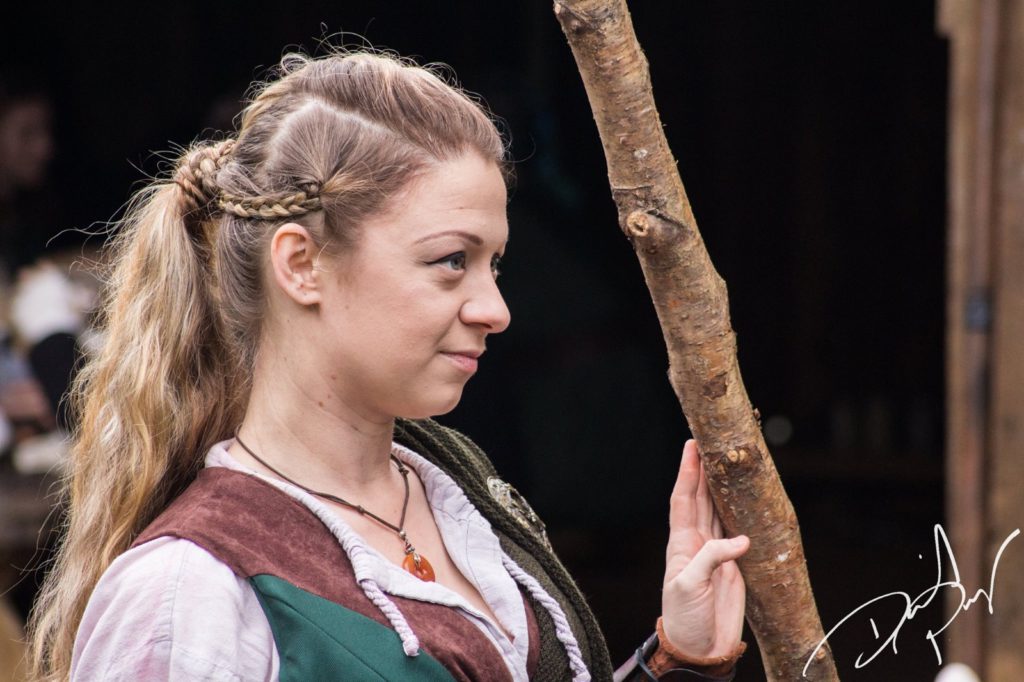 Influences and Inspiration
Blood Red Roses is inspired by a series of civil conflicts fought amongst the noble houses of Lancaster and York in the 15th Century, known as the Wars of the Roses. Both houses were branches of the Plantagenet royal family and fought ruthlessly to claim the throne of England.
The Wars were characterised by their larger-than-life protagonists; by frequent betrayals and sudden dramatic shifts in the balance of power; and by the brutal and merciless battles fought on foot in plate armour, where armies massacred each other with axe, sword, hammer and bow.
Clothing fashions and weapon styles for Blood Red Roses are loosely inspired from the medieval time period but there is no strict emphasis on historical accuracy. Reasonable interpretations of period pieces across the entirety of the medieval era will be accepted. 
Blood Red Roses has been running for nearly 20 years, originally the brainchild of Stephen Oldbury it has been adapted, expanded, and supported by a diverse team of volunteers whose passion and commitment keep Blood Red Roses alive and strong. Much like the twists and turns of The Wars of the Roses our plot history is laced with many protagonists and heroes, sudden betrayals and heartache. We have more stories than we can remember and we look forward to making many, many more.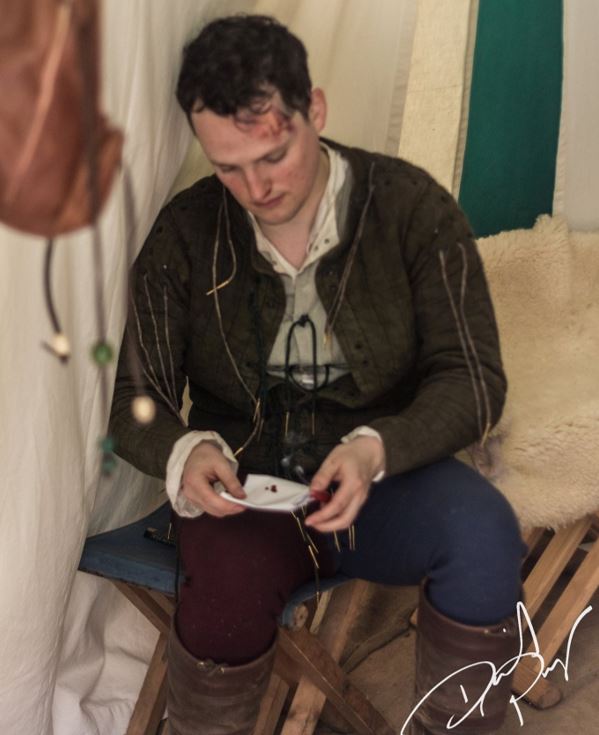 Where Does Blood Red Roses Happen?
Blood Red Roses events take place three times a year at the secluded and rustic site of 'Taw Bottom' in South Tawton, near Okehampton in Devon. The site comprises of 14 acres of well-managed woodland of a number of areas which can be utlised for camping or in game scenarios, a number of three-sided wooden barns, a kitchen, a large fire circle, and a river.
There is a carpark with free parking and toilet facilities where there is access to drinking water as well as hot running water and hot showers. All cold taps on-site are mains Drinking water but it is of course up to you if you want to bring bottled drinking water with you.
There are no recycling or wheely bins on site. All rubbish must be taken home and everyone is responsibe for their own rubbish. 
The address of the site is Taw Bottom, EX20 2LP. Google Maps has some curious suggestions as to how to get there so please follow our instructions to get there. 
A helpful list compiled by our community of the essentials needed for a Blood Red Roses event:
A tent and suitable sleeping/camping equipment
The food that isn't provided (see 'What's Included')
Hydration and snacks
In terms of Crew costume, the Crew Kit has you covered but please bring a base layer for each day. These can be plain, unbranded trousers in a natural/dark colour (not jeans) and a vest or plain top. You may wish to get your own 'Crew Shirt' but this is not a requirement
Socks! Plenty of socks – dry feet, happy LARPer!
If Playing then all of the kit and clothing your character requires
Sensible footwear appropriate to forest walking, ideally waterproof and proving ankle support e.g. Walking boots, please no brightly coloured trainers or welly boots
You are required to bring your own drinking vessel for use in character. We would suggest that you put your initials on the base. You must also bring your own plate/bowl and cutlery. We would recommend that these are wooden in order to remain in keeping with the feel of the game.
Sun cream, after sun and insect repellent. The site has been known to have ticks and also midges near the river and we would always recommend using strong insect repellent.
Toiletries including toothbrush and toothpaste
Antibacterial gel and Wet Wipes for helping to keep clean and for helping to remove game make up
Towel and shower gel to take advantage of the hot showers!
Bin bags to take wet kit home and old towels for entrances to tents
Torch or camping lantern
Sports bra if applicable
Take ownership of your aches and pains. Pack a packet of pain relief e.g. paracetamol or ibruprofen and any medications that you normally take.
There are two main options to choose from at Blood Red Roses: Playing or Crewing. In fact, they're terms you'll hear at most LARPs. If you would like to spend the event as a specific character that you have designed yourself then you'll most likely be playing. Playing an event costs £75 although there is a reduced cost for the first event you play. 
Crewing is FREE and at Blood Red Roses Crewing is by no means the second or 'lesser' option. The Refs will have created an intricate (and often elaborate) plot for the Players to follow. That plot requires a cast: villagers, tradesfolk, nobles, bandits, armies of Lost – the list is endless and exciting. Non Player Characters (NPCs) are created with comprehensive backstories and relationships so that they contribute as much to the game world as Player Characters – and the great thing is, as a Crew Member, you can play a multide of these NPCs in one weekend. Crewing is free and incurs no ticket cost. We would recommend Crewing for a few events if you are new to LARP or new to BRR to get a feel and understanding for the system. You can find a lot more detail in our Crew Hub on Facebook.
The Blood Red Roses experience runs from when the game starts on a Friday evening until Time Out is called on a Sunday afternoon. We would recommend arriving on site during Friday afternoon in order to be fully set up and prepared to start the game in the evening. If you are Crewing the we would appreciate as much time as you can give us on Friday to help set up.
Camping – You'll be camping on level grass and will be instructed where to set up camp on arrival. Cars are left in the carpark and not parked by tents. There are no electirical hook up points for tents.
Facilities –  Toilet blocks (male, female and unisex) with access to mains drinking water and hot water in sinks and showers. Sinks, mirror and space to get changed. 
Food – You will need to provide food for yourself on the Friday evening. The game aims to start around 8pm on Friday evening. A hot breakfast is provided for everyone on site on Saturday and Sunday mornings. A hot meal is provided on Saturday evening (sometimes in character) however lunch time food on both days needs to be provided by yourself. If you have dietary requirements, please let the Ref team know.
Drink – As mentioned above the site does have mains drinking water in all cold taps – you can bring bottled water if you prefer. There is the facility to boil water but access to this is limited to the mornings and times when the weather is particularly bad. Tea and Coffee with breakfast is provided (bring your own mug).
"The Crew are the heart and lungs of the BRR. You are the reason why the characters are there and why they may never come back. You will have a vast kit at your disposal to bring the characters to life, and you'll be given a brief on your personal objectives, and relationships. It's also the best way of learning IC lore and culture!"
"BBR is a system that allows for in-depth character development and actively ensures that each character has personal plot at most events. Events are tailored to the overall makeup of the player party ensuring a smooth exposition and resolution to each plot element. We are encouraged to show and live through strong emotions and difficult situations however our care and well being are priorities. Mental well-being is recognised as being important and taking a short break is encouraged if needed."